The College of Continuing Studies is adapting our business operations to continue to serve our customers amid the rapidly evolving COVID-19 pandemic.
For the latest COVID-19 University of Alabama updates, please visit the
UA Health Information website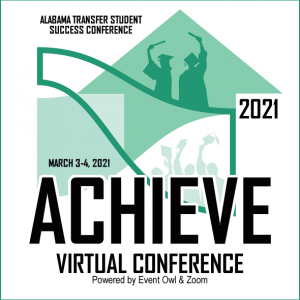 ACHIEVE 2021 – 3rd Annual Alabama Transfer Student Success Conference
Charting the Path Ahead:  Providing Opportunities for Transfer Student Success Amid a Pandemic
March 3-4, 2021
Virtual Conference
CONFERENCE PURPOSE STATEMENT
The Statewide Transfer and Student Success Conference strives to ensure student success and increase college completion rates across the State of Alabama by fostering collaboration between 2- and 4-year colleges and universities and identifying new opportunities to promote the seamless transfer of 2-year college students to 4-year colleges and universities.
CONFERENCE GOALS
Re-evaluate and renew commitments for transfer and student success
Identify new opportunities for transfer and student success
Increase college completion rates across Alabama
Foster collaboration across 2- and 4-year colleges and universities to help more 2-year students complete associate's degrees, transfer, and earn bachelor's degrees
Implement opportunities for dialogue about transfer and student success
Engage representatives of Discipline Committees to reconnect and review, and revise articulation agreements
Discuss AGSC/STARS resources available to 2- and 4-year colleges and universities
Promote new online training for AGSC Institutional Points of Contacts (POCs)
Promote training for faculty and staff involved in 2-and 4-year student transfer
Share research about the latest student transfer trend data
Conduct outreach to generate support for implementation of successful transfer strategies across 2- and 4-year colleges and universities
INTERESTED IN PRESENTING?
Click here to submit a proposal for a breakout session.   Proposals are due by February 4, 2021
Call for Proposals requests presenter/co-presenter contact information and bio as well as session title, description and at least one learning objective.