Dr. Janet L. Marling
Janet L. Marling, Ph.D. has been affiliated with NISTS since its establishment in 2002 and was named executive director in 2011. In this role and through her extensive speaking, training, and consulting activities, Dr. Marling works with individuals, higher education institutions and associations, state agencies, foundations, and legislative bodies to improve transfer policy, practice, and research. She edited the New Directions for Higher Education volume titled, Collegiate Transfer: Navigating the New Normal, published by Jossey-Bass, and has been involved as a project director and/or co-principal investigator for multiple research grants focusing on transfer student success.
.
---
Dr. Mark D'Amico
Mark D'Amico is a Professor of Higher Education at the University of North Carolina at Charlotte. Mark began his career working with transfer students in university admissions roles and later went on to senior administrative positions in community college and state system settings. Mark's scholarly work on community college student success and workforce development has appeared in leading scholarly outlets such as Research in Higher Education, Review of Higher Education, Community College Review, and Community College Journal of Research and Practice, and he edited a special issue of Community College Review on transfer in 2017. Mark also serves as the immediate Past-President of the Council for the Study of Community Colleges—an affiliated council of the American Association of Community Colleges.
.
---
Dr. John N. Gardner
John is an educator, university professor and administrator, non-profit organization chief executive officer, author, editor, public speaker, consultant, change agent, student retention specialist, first-year, sophomore, transfer, and senior year students' advocate, and initiator and scholar of the American first-year and senior-year reform movements.  He serves as Chair and Chief Executive Officer of the Gardner Institute.  The Gardner Institute works with colleges and universities to strengthen their resolve and processes to undertake assessment and other improvement actions to increase student learning and retention.
View full bio at https://www.jngi.org/full-bio-gardner
.
---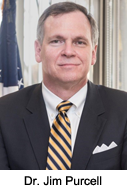 Dr. James E. Purcell
James E. Purcell, Ed.D., was named the State Higher Education Executive Officer (SHEEO) of the Alabama Commission on Higher Education in April, 2017, having served previously as the SHEEO in Rhode Island, Louisiana and Arkansas.
Dr. Purcell is a strong advocate for institutional research and planning as a means to implement policies and programs related to higher education. This organized approach provides a blueprint for expanding access to higher education and improving student attainment. The transparency across the higher education system will be essential in responding to workforce needs in Alabama. During his career, he has secured grant funding from state, federal and private philanthropic organizations to support these goals, particularly for adult degree completions.
Dr. Purcell is a past president of the Southern Association for Institutional Research and a former member of the executive council of SHEEO.
The Alabama native holds an Ed.D. in Higher Education Administration from the University of Alabama, a M.Ed. in Counseling from the University of Montevallo and a B.S. in Public Administration from Auburn University.
Dr. Purcell has spent the past thirty years advocating for students and institutions of higher education to maximize their potential.