June 28 – July 1, 2021
Instructor: Jacqueline Rackard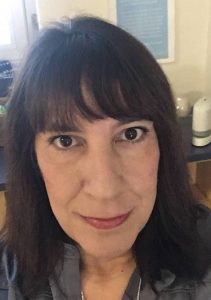 I was raised in sunny South Florida and received both my undergraduate and graduate degrees from Florida International University. I am in my 32nd year of teaching and have taught AP English (either Language or Literature) pretty consistently since 2000. I have also taught reading and ELL and have worked as literacy coach.  I have also taught college writing at the local community college.
I have been an AP English Language and Composition reader since 2003 and have served as table leader, question leader and member of the sample selection committee. At this coming reading, I will serve as Assistant to the Chief Reader.
I also had the opportunity to serve as part of the AP English Language Test Development committee from 2009-2016. I currently teach in an urban setting near Ft. Lauderdale, Florida. My school is large and very diverse. For fun and to maintain my sanity, I practice yoga and read extensively.
-Jackie
---
Course Description
Advanced Placement English Language and Composition teachers will explore strategies to improve and enhance college level English courses by focusing on the five curriculum areas of essay writing: close reading, language analysis, rhetorical analysis, constructing an argument, and synthesis development.
Emphasis will be placed on non-fiction selections and pedagogical approaches. There will be substantial time during the workshop for participants to work collaboratively and individually to create effective instructional units.
APSI Course Overview:
Closely review the Course and Exam Description (CED) with a spiraling articulation of the existing AP Course in terms of:
Big Ideas(Rhetorical Situation, Claims and Evidence, Reasoning and Organization, and Style) Enduring Understandings, and Course Skills
Develop curricula for some of the units found in the CED
Review AP Resources and Supports, particularly AP Classroom.
Explore approaches to organizing the course, selecting materials, and facilitating learning
Examine changes to the Language Exam (stable wording and scoring rubrics)
Review AP Audit requirements
Share best practices and pedagogical principles in relation to advance academics
---
Course Agenda Overview
DAY 1
Access and equity statement review/discussion
Course and exam description (ced)- guided ppt
Areas of discussion and practice:

Big ideas and enduring understandings
Rhetorical situation: purpose, speaker, audience, exigence

Activity: spiraling the units
DAY 2
Introduction to  ap central- resources
Close study of units 1-3 (ced)
Introduction to rhetorical analysis- q&a
Scaffolding skills- starting with a paragraph vs. Full essay
Question 2: scoring guide

Sample prompts/scoring activity
DAY 3
AP central- review and navigation
Introduction to argumentation

Rogerian and  Aristotelian
Structuring the argument
Types of evidence- is personal experience acceptable?

Samples/scoring guide
Individual/group planning time- units 1-4
DAY 4
Close study of units 5-8 (ced)
Introduction to synthesis

The role of argumentation and rhetorical analysis

Jigsaw activity- analyzing sources
Samples/scoring guide
AP central and AP classroom