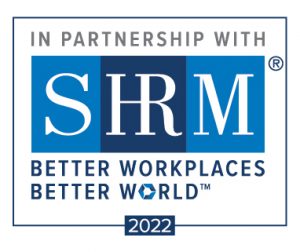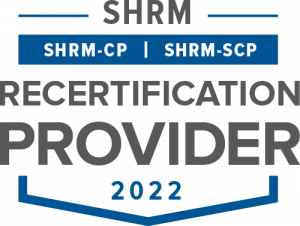 Workshop Overview
Commit to Your Career
HR professionals like you are facing new and larger challenges each day due in part to a changing workforce, shifting legislation and regulations and so much more. Ensure you're prepared for these changes, and anything else thrown your way with SHRM's global HR credentials, SHRM-CP and SHRM-SCP.
By becoming SHRM certified, you prove your knowledge, competency and value to colleagues and to employers looking for a competitive edge in today's global economy. Wherever your career takes you, your SHRM certification will define you as an HR expert and leader, and our course can help you get there.
Course Dates:
To complete the SHRM-CP or SHRM-SCP course, attendance is required for all of the following dates and times.
| Dates | Times |
| --- | --- |
| April 19, 2022 | 8:00 a.m. – 5:00 p.m. |
| April 20, 2022 | 8:00 a.m. – 5:00 p.m. |
| April 21, 2022 | 8:00 a.m. – 5:00 p.m. |
*Location: 1112 Montgomery Hwy, Birmingham, AL 35216
In-person classes with online streaming option available, as COVID-19 restrictions permit. If you have questions, please contact Mary Patterson at
mpatterson@ccs.ua.edu
.
Who Should Attend
Our certification preparation course is designed primarily for individuals seeking SHRM-CP or SHRM-SCP certification. Certification is a great choice for HR professionals who want to:
Increase their knowledge
Advance their skills
Earn recognition from the global community

Advance your career. If you're not interested in certification but want to improve your HR skills, this course provides a comprehensive and accelerated option for professional development. Participants gain a generalist viewpoint, refresh key ideas and concepts, strengthen their understanding of core behavior and technical competencies and increase productivity in the workplace.
What You Will Learn
Offered in partnership with the Society for Human Resource Management (SHRM), the curriculum provided in the 2022 SHRM Learning System is designed by global subject matter experts and covers the entire SHRM Body of Competency and Knowledge™ (SHRM BoCK™). Throughout the program HR professionals are encouraged to acquire the Competencies and Knowledge they'll need to effectively perform their jobs and achieve career success. Our course combines expert instruction with the 2022 SHRM Learning System to offer a comprehensive and effective way to prepare for success on your SHRM-CP and SHRM-SCP exam.
The University of Alabama's SHRM-CP and SHRM-SCP Test Prep Program offers you a preparation course to help meet your needs and increase your success on the SHRM-CP and SHRM-SCP exams.
Benefits to you
Benefits to your employer
You'll benefit from:

An experienced, SHRM-certified instructor.
The SHRM Learning System, historically ranked the #1 HR certification prep tool.
Ability to acquire the knowledge and understand the behavioral competencies to help
you prepare for the exam.
A structured learning experience that keeps you on track.
Opportunities to network and learn from your peers.
Eligibility for tuition reimbursement.
Earning up to 36 professional development credits (PDCs) if you are attending this
program for professional development only.

Certification benefits your entire organization:

It demonstrates that your HR professionals have mastered the application of HR technical
and behavioral competencies.
Certification prepares your HR staff to assume greater leadership roles and contribute
to the strategic direction of your organization.
Exam preparation helps HR professionals bring new ideas to your organization that
will help drive success.
It helps create a common HR language that optimizes consistency and effectiveness.
Certification is relevant worldwide, as exams cover the new global SHRM BoCK™.
Workshop Outline
Title
Overview
HR Competencies

Leadership & Navigation
Ethical Practice
Business Acumen
Consultation
Critical Evaluation
Relationship Management
Global & Cultural Effectiveness
Communication

People

HR Strategic Planning
Talent Acquisition
Employee Engagement & Retention
Learning & Development
Total Rewards

Organization

Structure of the HR Function
Organizational Effectiveness & Development
Workforce Management
Employee & Labor Relations
Technology Management

Workplace

HR in the Global Context
Diversity & Inclusion
Risk Management
Corporate Social Responsibility
Employment Law & Regulations (U.S. Only)
Unique workshop offerings
As an official SHRM Education Partner, we are able to build our course on the SHRM Learning System, giving you access to the most comprehensive, effective and up-to-date exam preparation tools available. The 2022 SHRM Learning System delivers:
EFFECTIVE AND PROVEN RESULTS. Candidates who use the SHRM Learning System consistently beat the average exam pass rate.
ONE SOURCE FOR KNOWLEDGE AND APPLICATION. All the study tools you need to understand, apply and engage with behavioral competencies and HR knowledge.
CURRENT AND RELEVANT CONTENT. The SHRM Learning System has been updated to align with the 2021 SHRM BoCK, the defined standard for knowledge and competencies required of HR professionals around the world.
CONVENIENT 24/7 ONLINE ACCESS to your study tools from any mobile device, tablet, or computer.
Workshop Leads
Larry Baldwin
Larry Baldwin is an experienced executive with an extensive background in human resources, enterprise risk, sales, and general management. He is a Senior Human Resources Professional (SPHR) through the Society of Human Resource Management (SHRM). He holds a B.S. Degree in Industrial Relations as well as a MBA Degree in General Management from the University of South Alabama. Presently, he serves as Director of the Alabama Human Resources Institute for the Culverhouse College of Commerce at the University of Alabama as
well as a Clinical Instructor for HR Management courses. Mr. Baldwin also maintains a small management services firm that offers human resources, business, and career consulting services to clients.
Dr. Robert K. Prescott, SPHR, SHRM-SCP
Dr. Robert K. Prescott has spent twenty years in industry and as many years teaching in academic positions. He is currently Director-Corporate Engagement for The University of Alabama and has most recently served for sixteen years as Graduate Faculty of Management
at the Crummer Graduate School of Business at Rollins College in Winter Park, Florida. His personal teaching expertise and research focuses on all aspects of human resource management, leadership, organization behavior, training & development and enterprise consulting. He is a native of Birmingham, Alabama, holds a B.S. in Marketing from the University of Alabama and a Ph.D. in Workforce Education and Development from The Pennsylvania State University.