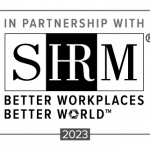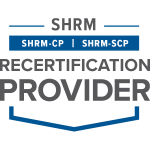 The University of Alabama is recognized by SHRM to offer Professional Development Credits (PDCs) for SHRM-CP® or SHRM-SCP® recertification activities.
Workshop Overview
Registration for November 15-17, 2023 Boot Camp is open! (Corporate contract training is also available.)
Commit to Your Career
HR professionals like you are facing new and larger challenges each day due in part to a changing workforce, shifting legislation and regulations and so much more. Ensure you're prepared for these changes, and anything else thrown your way with SHRM's global HR credentials, SHRM-CP and SHRM-SCP.
By becoming SHRM certified, you prove your knowledge, competency and value to colleagues and to employers looking for a competitive edge in today's global economy. Wherever your career takes you, your SHRM certification will define you as an HR expert and leader, and our course can help you get there.
Course Dates:
To complete the SHRM-CP or SHRM-SCP course, attendance is required for all of the following dates and times.
| Dates | Times |
| --- | --- |
| November 15, 2023 | 9:00 a.m. – 4:00 p.m. |
| November 16, 2023 | 9:00 a.m. – 4:00 p.m. |
| November 17, 2023 | 9:00 a.m. – 4:00 p.m. |
*Location: America's First Federal Credit Union community room, 1112 Montgomery Highway, Vestavia Hills, AL  35216
In-person classes with online streaming option available. If you have questions, please contact
Mary Patterson
.
Who Should Attend
Our certification preparation course is designed primarily for individuals seeking SHRM-CP or SHRM-SCP certification. Certification is a great choice for HR professionals who want to:
Increase their knowledge
Advance their skills
Earn recognition from the global community
Pricing:
Non-SHRM Members- $1,300
National SHRM Members- $1,250
UA Employee-$1,100
Birmingham, Tuscaloosa, or Other Local Chapter SHRM- $1,100
Eligibility Requirements
To be eligible for the SHRM-CP and SHRM-SCP exams, you must meet specific educational and work experience criteria at the time you submit your application. For details on eligibility requirements, visit shrmcertification.org/eligibility.
Advance Your Career
Not sure about certification, but still want to improve your HR skills to meet the demands of today's world of work? Then this workshop could be the perfect fit for you. The course provides a comprehensive and accelerated option for professional development. Participants gain a generalist viewpoint, refresh key ideas and concepts, strengthen their understanding of core behavior and technical competencies, and increase productivity in the workplace.
SHRM Body of Applied Skills and Knowledge™ (SHRM BASK™)
The SHRM-CP and SHRM-SCP certifications are built upon the SHRM BASK which is more than an exam outline. It defines the standards for the knowledge, strategies and competencies required for effective HR professionals around the world.
To maintain this level of excellence and relevancy, SHRM brought together some of the best minds in the HR profession to define nine behavioral competencies and 14 functional areas that every HR professional should know.
The University of Alabama's SHRM-CP and SHRM-SCP Test Prep Program offers you a preparation course to help meet your needs and increase your success on the SHRM-CP and SHRM-SCP exams.
Benefits to you
Benefits to your employer
You'll benefit from:

An experienced, SHRM-certified instructor.
The SHRM Learning System, historically ranked the #1 HR certification prep tool.
Ability to acquire the knowledge and understand the behavioral competencies to help
you prepare for the exam.
A structured learning experience that keeps you on track.
Opportunities to network and learn from your peers.
Eligibility for tuition reimbursement.
Earning up to 36 professional development credits (PDCs) if you are attending this
program for professional development only.

Certification benefits your entire organization:

It demonstrates that your HR professionals have mastered the application of HR technical
and behavioral competencies.
Certification prepares your HR staff to assume greater leadership roles and contribute
to the strategic direction of your organization.
Exam preparation helps HR professionals bring new ideas to your organization that
will help drive success.
It helps create a common HR language that optimizes consistency and effectiveness.
Certification is relevant worldwide, as exams cover the new global SHRM BASK™.
Topics Covered
Study with learning modules that provide an in-depth exploration of the knowledge domains and behavioral competencies tested on the SHRM exams.
Title
Overview
Competencies

Leadership

Leadership & Navigations
Ethical Practice
Diversity, Equity & Inclusion

Interpersonal

Relationship Management
Communication
Global Mindset

Business

Business Acumen
Consultation
Analytical Aptitude

People

HR Strategy
Talent Acquisition
Employee Engagement & Retention
Learning & Development
Total Rewards

Organization

Structure of the HR Function
Organizational Effectiveness & Development
Workforce Management
Employee & Labor Relations
Technology Management

Workplace

Managing a Global Workforce
Risk Management
Corporate Social Responsibility
U.S. Employment Law & Regulations (U.S. Only)
Preparing for the SHRM Certification Exam: Let's Do This Together!
We combine the SHRM Learning System with our expert, SHRM-certified instructors to offer you the most comprehensive and effective way to prepare for success on your exam. The SHRM Learning System is an interactive roadmap to guide your studies through the entire SHRM Body of Applied Skills and Knowledge™ (SHRM BASK™).
Proven Success: Students using the SHRM Learning System consistently beat the average exam pass rate.
Expert Guidance: Your SHRM certified instructor is there to answer your questions and keep you on track for success.
Current Content: The course content is updated annually and aligns with the SHRM BASK tested on the exams.
Authentic Practice Questions: The learning system includes 2,500+ practice questions, including some that were previously used on actual SHRM-CP and SHRM-SCP exams.
Workshop Leads
Larry Baldwin
Larry Baldwin has earned the Senior Professional in Human Resources certification (SHRM-SCP) through the Society of Human Resource Management (SHRM). Previously he served as director of the Human Resources Institute for the Culverhouse College of Business at The University of Alabama and is a clinical instructor for HR management courses. Mr. Baldwin also maintains a small management services firm that offers human resources, business, and career-related consulting
Rena W. Ramsey, M.B.A.
Rena W. Ramsey, SHPR, SHRM-SCP, CDE is an experienced and savvy Human Resource (HR) professional with over thirty years of progressive experience in multiple areas of this important organizational function, including affirmative action, diversity, and employee relations. She has spent most of her career in the banking and construction industries. She serves as Managing Director – Diversity and Human Capital Resources for Everett Advisory Partners. Her professional affiliations include membership in the Society of Human Resources Management. She is currently serving as an advisory member to the board of directors of the Birmingham SHRM chapter and Diversity Director for the Alabama SHRM State Council. She holds a B.S. in Biology from Birmingham- Southern and an M.B.A. from the University of Alabama at Birmingham. She holds the following certifications: Society of Human Resources – SHRM-SCP; HR Certification Institute – SPHR; Society for Diversity – CDE (Certified Diversity Executive).
Program Manager
Questions about this program? Contact Mary Patterson today! Mary Patterson works in the Office of Teaching Innovation and Digital Education at The University of Alabama as Program Manager, where she assists the OTIDE team in designing and implementing professional development and training programs, industrial training programs, and executive education programs that are offered on-campus, online or onsite at the workplace.  Ms. Patterson has a Bachelor's degree in Business from the University of Alabama's Culverhouse College of Business with a major in accounting.  She is a Certified Public Accountant and stays abreast of current developments relevant to business owners, including management, human resources, economics, accounting, taxation, and marketing.  Additionally, Ms. Patterson is a Certified Professional in the Society for Human Resource Management. She works closely with HR departments to design custom training to enhance work objectives, increase productivity and build a positive culture.  She worked previously as Director of the Alabama Entrepreneurial Research Network (AERN) in the Culverhouse College of Business to bring the resources from the University of Alabama down to the community level.  She is a member of the Tuscaloosa Chapter of the Alabama Society of CPAs, the Society of Human Resource Management, the Culverhouse Commerce Executives Society, and the Southern Automotive Women's Forum.