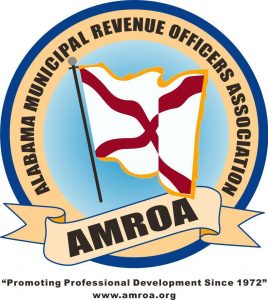 The College of Continuing Studies offers professional training opportunities for the Alabama Municipal Revenue Officers Association biannually at the Bryant Conference Center on the University of Alabama main campus. The purpose of the Certified Municipal Revenue Officer (CMRO) Program is to improve the professional, administrative, and fiscal skills of participating municipal revenue officers through a series of courses approved by the AMROA. Because of the increasing complexity of municipal revenue administration, this certification program is designed to help municipal revenue officers develop their management skills and abilities and obtain more expertise and status in their profession as they serve their communities. Each training institute provides 20 contact hours. Individual must attend 4 training institutes to become a Certified Municipal Revenue Officer (CMRO) and maintain 20 contact hours of continuing education every two years.
Anyone can attend the training institutes and the annual conference. This training is not exclusive to revenue officers, many individuals with similar job responsibilities attend. However, we do encourage you to join the Alabama Municipal Revenue Officers Association. Membership information can be found on their website.
Cancellations and Refunds
Cancellations made within fourteen days of the event will not be given a refund. The University of Alabama reserves the right to change, cancel, or postpone events.
Request for Accommodations
The University of Alabama is committed to complying with the Americans with Disabilities Act. Requests for accommodation of physical and/or dietary needs should be made at least 30 calendar days in advance of the program date. Please email your request to Emily Townsend at professionaldevelopment@ua.edu.