Exhibit at the DHR Supervisors' Training Conference!
The Alabama DHR Supervisors' Training Conference is an excellent opportunity to reach individuals in the child welfare industry. Exhibiting at the 2022 Conference gives you the opportunity for maximum exposure at a minimal cost and allows you to network and provide information on your resources with over 250 attendees!
Exhibitor booths are just $200 per event!
Why Exhibit?
Maximize exposure at a minimal cost
Showcase your products and services
Cultivate relationships
Increase exposure and awareness
Educate clients and customers
Gain input and feedback
Demonstrate support
Register as an Exhibitor
By Phone: Call Registration Services at 205-348-3000
Lodging
As an exhibitor you are eligible for a special room rate at the Renaissance Ross Bridge Golf Resort and Spa and Auburn Marriott Opelika Resort & Spa during your stay if you should need overnight accommodations. Please visit the following links to reserve your room.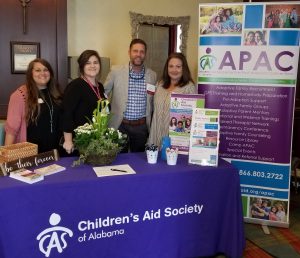 Book your lodging for the June DHR Conference here!
Book your lodging for the July DHR Conference here!
Past Exhibitors Include:
Alabama Department of Child Abuse Prevention
Alabama Foster Adoptive Parent Association
Alabama Partnership for Children
Alabama REACH
AltaPointe Health
Brentwood Children's Home
Children's Aid Society of Alabama
Heart Gallery of Alabama
Independent Living Resources of Greater Birmingham
Kids to Love
Laurel Oaks Behavioral Health Center
National Social Work Enrichment
SafetyNet Behavioral Healthcare
Cancellations and Refunds
Cancellations received within 30 days of each event are subject to a $200 cancellation fee. Refunds will not be granted after the program has begun. A substitute booth personnel may be designated in place of an exhibitor who cannot attend (Registration Services must be notified 72 hours prior to the start of the program).
For more information, please contact Emily Townsend at ehtownsend@ua.edu or 205-348-0356.