The 69th Annual Alabama HRM Conference will be held at the Bryant Conference Center located in the heart of Tuscaloosa on The University of Alabama campus. A Zoom streaming option will be available.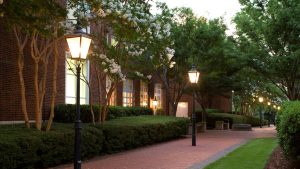 Directions
Bryant Conference Center, 240 Paul W. Bryant Drive Tuscaloosa, AL 35487
Parking Your Vehicle
Attendees can park at the Capstone Parking Deck, which is located across the street from the Bryant Conference Center. A limited number of handicap parking spaces are available in front of the Conference Center. Approximately one week prior to the conference start date, you will receive a parking permit. The parking permit will only be valid for the Capstone Parking Deck and the handicap spaces in front of the Bryant Conference Center.
Hotel Accommodations
For the price of $129, a hotel room block has been arranged with the Hotel Capstone, which is within walking distance from the Bryant Conference Center. The block is available from October 25th – 27th. Please make your reservations by September 25th, 2023. The remaining rooms will be returned to regular hotel inventory by this date.
Please use the promo code 221026CCSH when making your reservation online at www.hotelcapstone.com or when calling directly at (205) 752-3200. You can access a direct registration link.
Instructions to Book Hotel Room Online
Hold down control and click on the link above to open up the webpage
Choose your date of arrival by clicking on "check-in" and departure in "check-out"; select "search"
Select the room type you prefer by clicking on "Show Rooms" and it will drop down your available options
Select "Book Now" for the room that fits your needs
Complete your reservation by entering all requested information and click "Continue";  you will receive their confirmation number upon completion.

NOTE —   Only the dates above and room types contracted are available at the contracted rate — rooms requested outside of your block dates or different room types are based on availability and at the prevailing rate.

Or use code 221026CCSH on www.hotelcapstone.com.
Instructions to Book Hotel Room by Phone
Rooms in the block can be booked by calling 205-752-3200.  Ask for the block  with the corresponding dates.
The Agent will ask for an email address, so that we may email your confirmation letter; They will also be able to provide the confirmation number for you over the phone.
Be prepared with your payment method as it will be required to make a reservation over the phone.