The 66th Annual Alabama HRM Conference will be held at the Bryant Conference Center located in the heart of Tuscaloosa on The University of Alabama campus.
Virtual attendees will receive a link to join the event by October 22, 2020.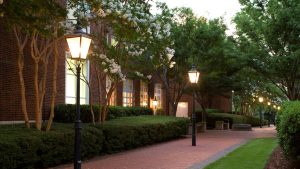 The WHOVA app will be available for all attendees.
Directions
Bryant Conference Center, 240 Paul W. Bryant Drive Tuscaloosa, AL 35487
Parking Your Vehicle
Attendees can park at the Capstone Parking Deck, which is located across the street from the Bryant Conference Center. A limited number of handicap parking spaces are available in front of the Conference Center. Approximately one week prior to the conference start date, you will receive a parking permit. The parking permit will only be valid for the Capstone Parking Deck and the handicap spaces in front of the Bryant Conference Center.
Hotel Accommodations
For the discounted price of $99 per night, a hotel room block has been arranged with the Hotel Capstone, which is walking difference from the Bryant Conference Center. The block is only available for Wednesday, October 28 and Thursday, October 29.
Please use the promo code "PG2020" when making your reservation online at www.hotelcapstone.com or when calling directly at (205) 752-3200. Click here for a direct registration link.